The Tagger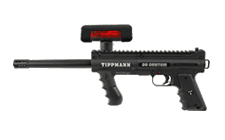 The Tagger is built on a Tippmann 98 Custom paintball marker platform – having been permanently converted to an infrared transmitter and receiver. It is durable, lightweight and compact making it suitable for even the youngest of players. There is no need for heavy air bottles as the system is powered by batteries.
A display on the tagger shows the player a number of real-time statistics such as the ammo left, health status and number of enemy hits.
It is the perfect system for young players looking to get into paintball and even more advanced laser tag.
Features:
Range 200 – 300 feet (further in low light)
Lightweight
Durable
Backlit screen with stats of your game in real-time
Quick game setup and control through the central command system
Sound feedback when making and taking hits