Tippmann FT-12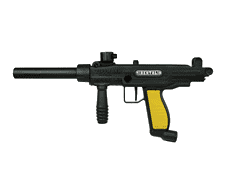 The Tippmann FT-12 is unlike any marker you've seen before. It was made with one thing in mind – the rental market. This market was built to withstand pretty much anything everything you throw at it. It just does not fail you – ever!
It has a relatively basic design and the easiest servicing of any marker we've seen. It has a basic gravity fed hopper system and semi-automatic operation.
We use the FT-12 as our main rental marker (as part of our Standard Packages) and we have 100 of them ready for some really big groups.

Features
Reliable like no other marker we've seen
Robust and can therefore take punishment
Very easy servicing through its flip-top system
Basic gravity fed system without any finicky parts
Semi-automatic operation meaning you can just pull the trigger again and again
---
Tippmann A-5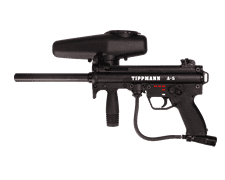 The Tippmann A-5 has been in production for a while because it is extremely capable and upgradable. And, like all Tippmann markers, it is extremely reliable. This marker is a little step up from the FT-12 in terms of features.
It has semi-automatic operation but with a force-feeding cyclone system. This means that unlike gravity fed hoppers, you don't need to keep moving to make sure that balls come through. With every shot that you take, it automatically reloads one paintball ready for shooting. And the best part is, this happens in an instant so can move that trigger finger as quickly as you want.
Even with the standard barrel, it is quite accurate – a little more so than the FT-12. It is also a bit lighter and more compact and therefore makes for a more quick movement.
We have 25 of these markers ready for those a little more serious about their paintball experience.
Features
Reliable like all Tippmann markers
Robust and can take some punishment
Cyclone System force-feeding your ammo
Quiet accurate
Semi-automatic operation and very quick
---
Tippmann X7 Phenom Electronic

The Tippmann X7 Phenom Electronic is in all senses the top-of-the range military simulation marker from Tippmann. It competes with the best out there. Even in its basic form shown in the picture here, this marker is pretty amazing.
This marker has two modes of operation: basic mechanical semi-automatic mode making it similar in feel to the A-5, and electronic mode making it the perfect marker.
Even within the electronic mode, there are different modes – from burst to full automatic. And then you can even set the rate at which it fires. Amazing is all we can say.
It uses the same reliable cyclone system on the A-5, but with the X7 Phenom, it really shows it's true colours. In addition, all our markers in this category have been upgrade with a squishy paddle system which greatly reduces the changes of balls breaking during full automatic operation.
This is a marker for those looking for the ultimate paintball experience. You can walk into any military simulation game and not be short on equipment.
We currently have a few of these and they do come at a premium as these are extremely valuable markers. We've applied a multitude of different looks and focuses to each one of our X7 Phenom markers – M16, long barrel sniper, AK-47, compact standard, MP-5, etc. Therefore, you can choose the marker that fits your style and game plan.
You will have the option to use a remote line and battle jacket, meaning the air bottle will sit on your back making it light and easy to move with.
If you want to make use of an X7 Phenom, please make sure to mention this well in advance as we have very limited quantities available.
Because of the extreme nature of the marker, we only allow groups with ages 14 and up to make us of one of these babies.
Features
Reliable like all Tippmann markers
Robust and can take some punishment
Cyclone System force-feeding your ammo at an incredible rate
Very accurate especially the sniper markers
Full automatic operation possible
Multiple looks and add-ons already included