CryWolf hosts the best paintball experience in Centurion, Pretoria and Johannesburg:
Packages for every budget…view prices.
6 unique outdoor paintball fields.
Well trained and knowledgeable marshals that guide players…view gallery.
Under our stunning pine trees, with access to lekker braai facilities, we promise to be the best venue to host a birthday party or special event.
Bring your pack and play this weekend!
Check our Facebook and Instagram pages for howling specials.
We boast a variety of well-maintained paintball markers, namely the semi-auto Tipmann FT12 and Tipmann A5.

All our paintball packages include, for FREE: a trained marshal, an overall, a chest protector, a neck guard, a mask, and unlimited air! Washed after every game. Quality you won't get anywhere else!

UNIQUE THEMED PAINTBALL FIELDS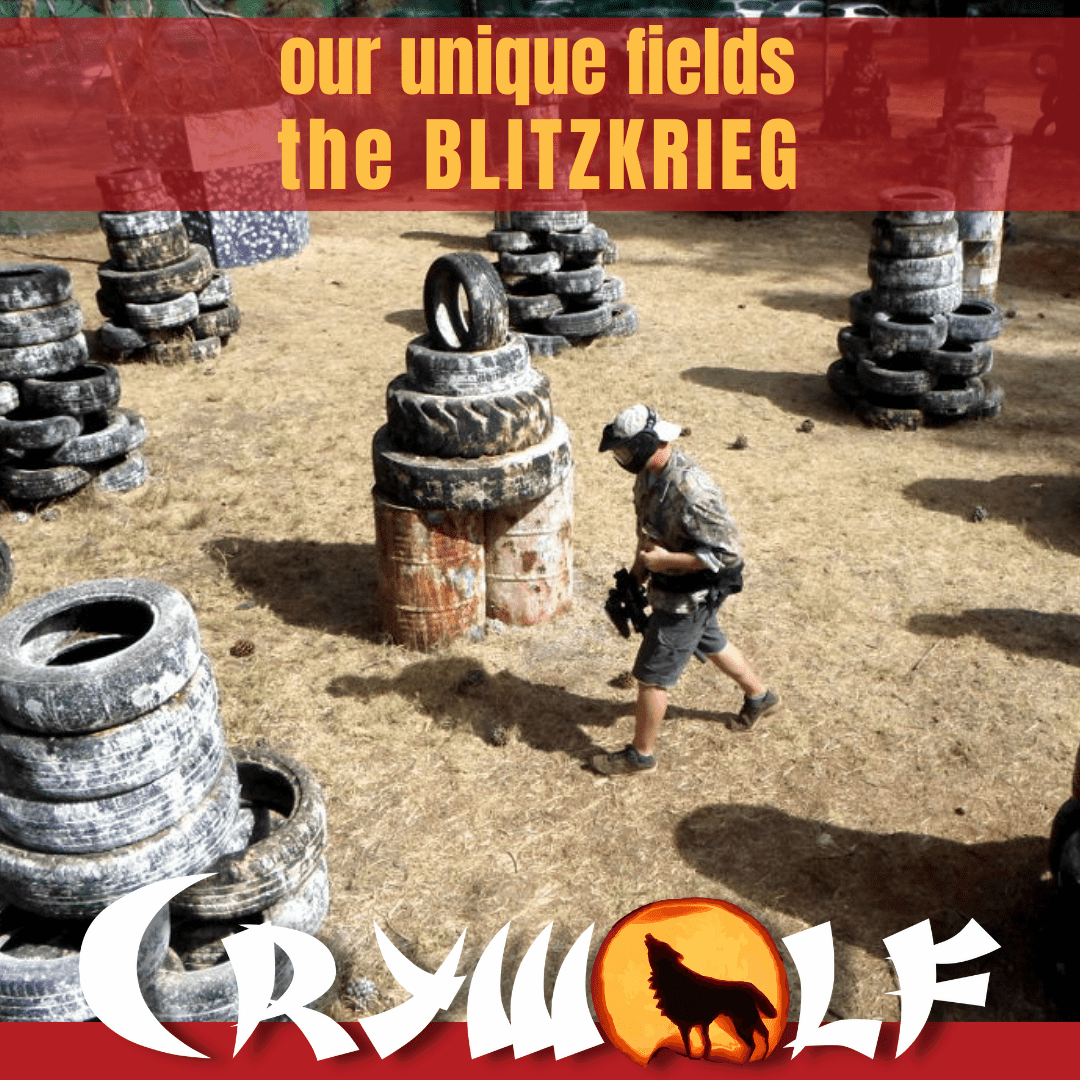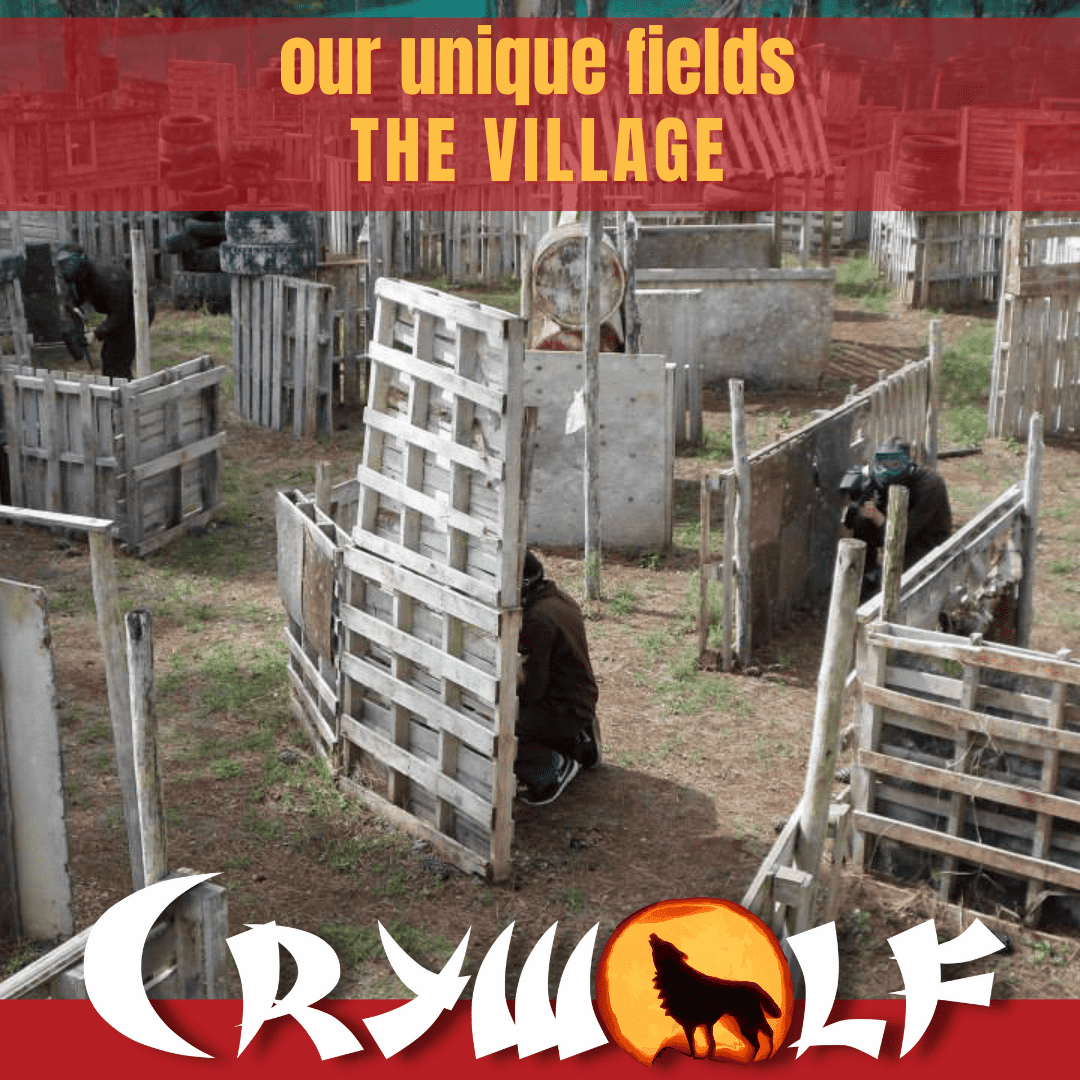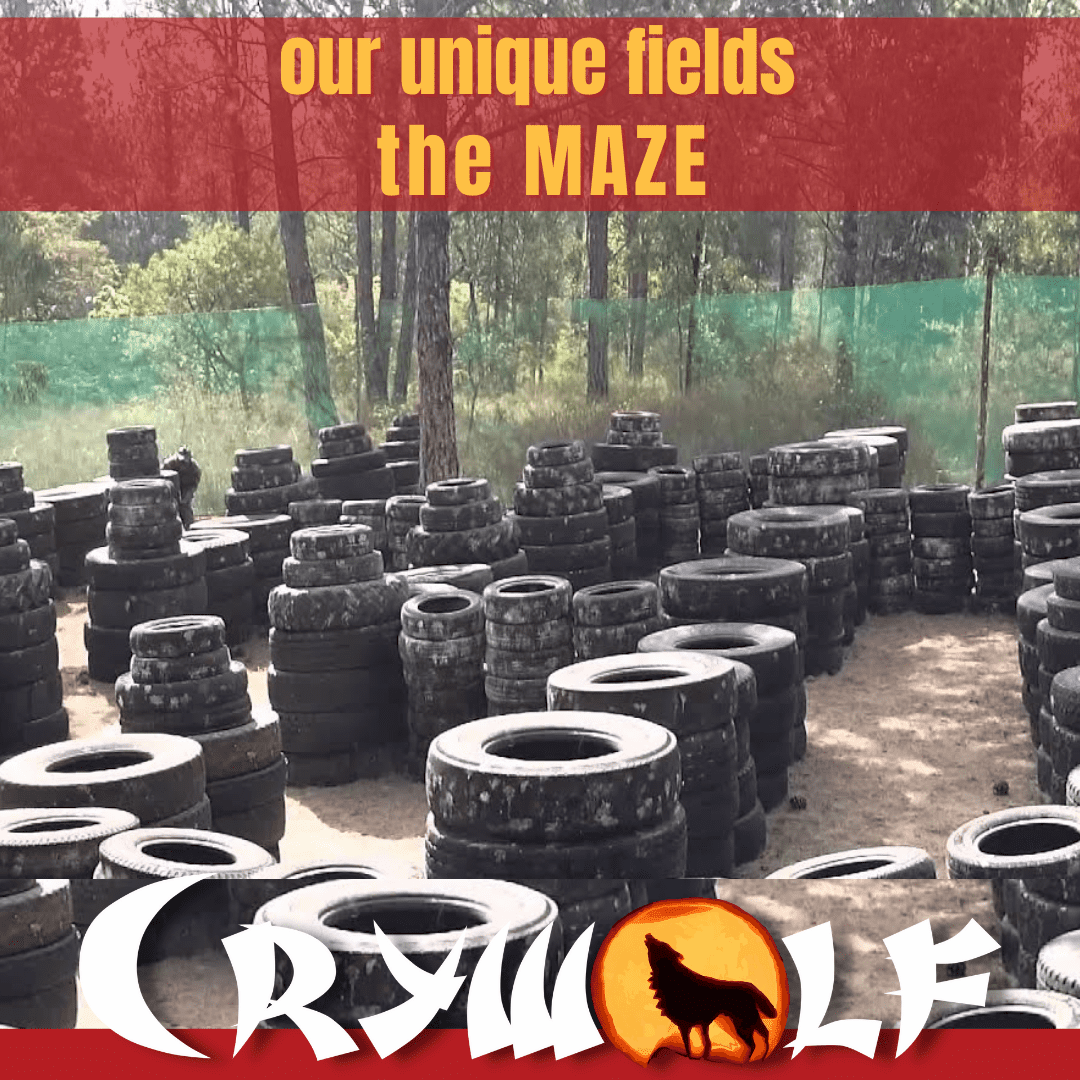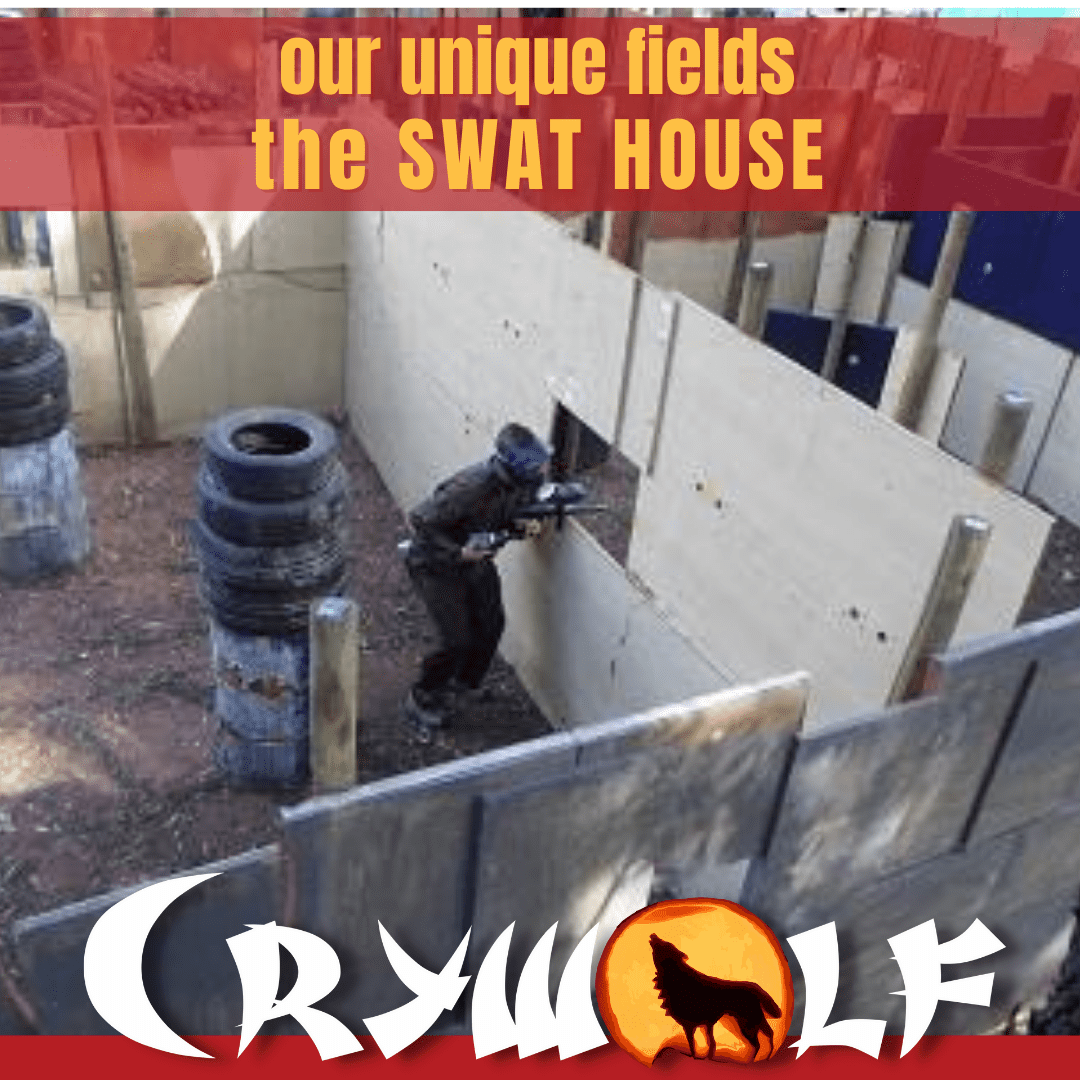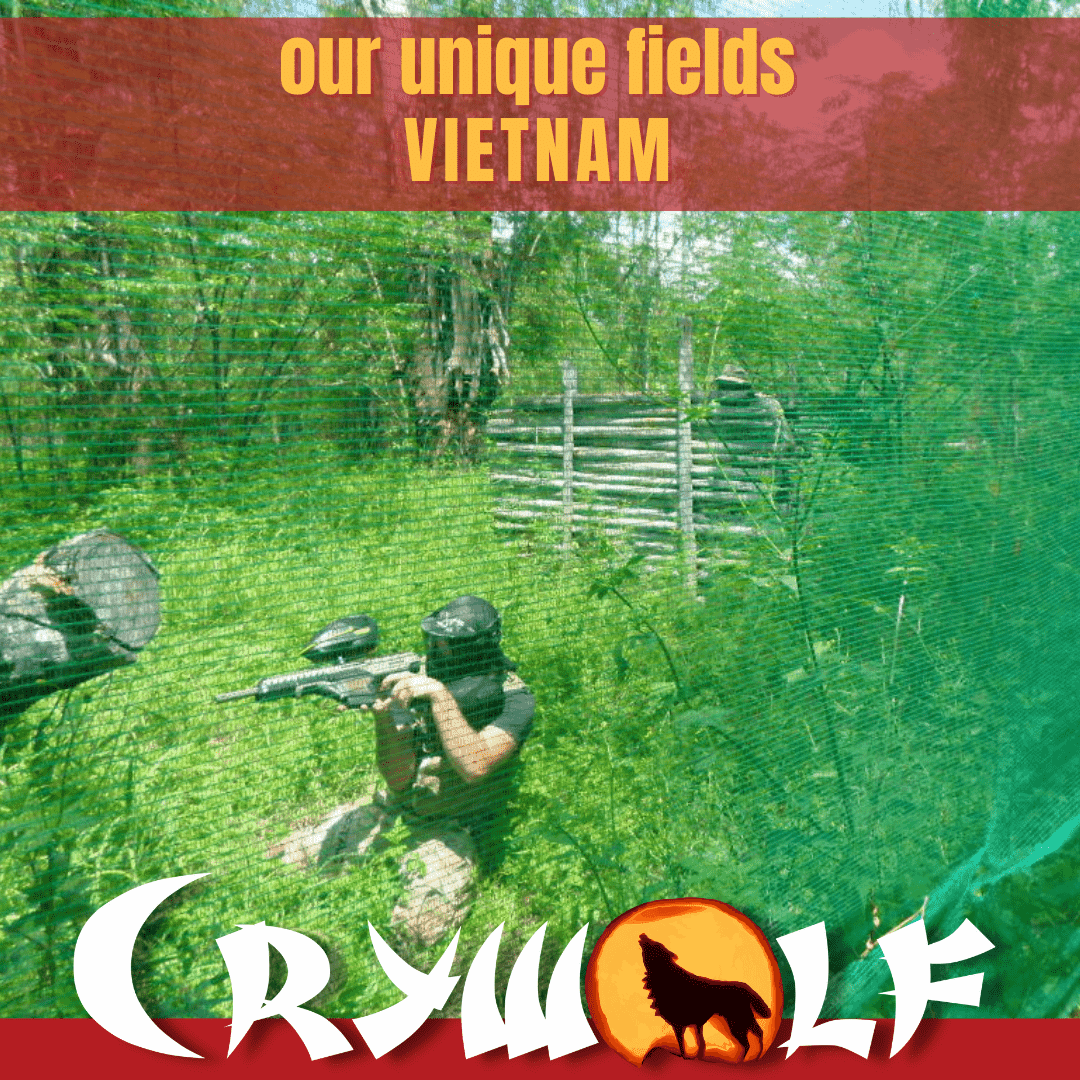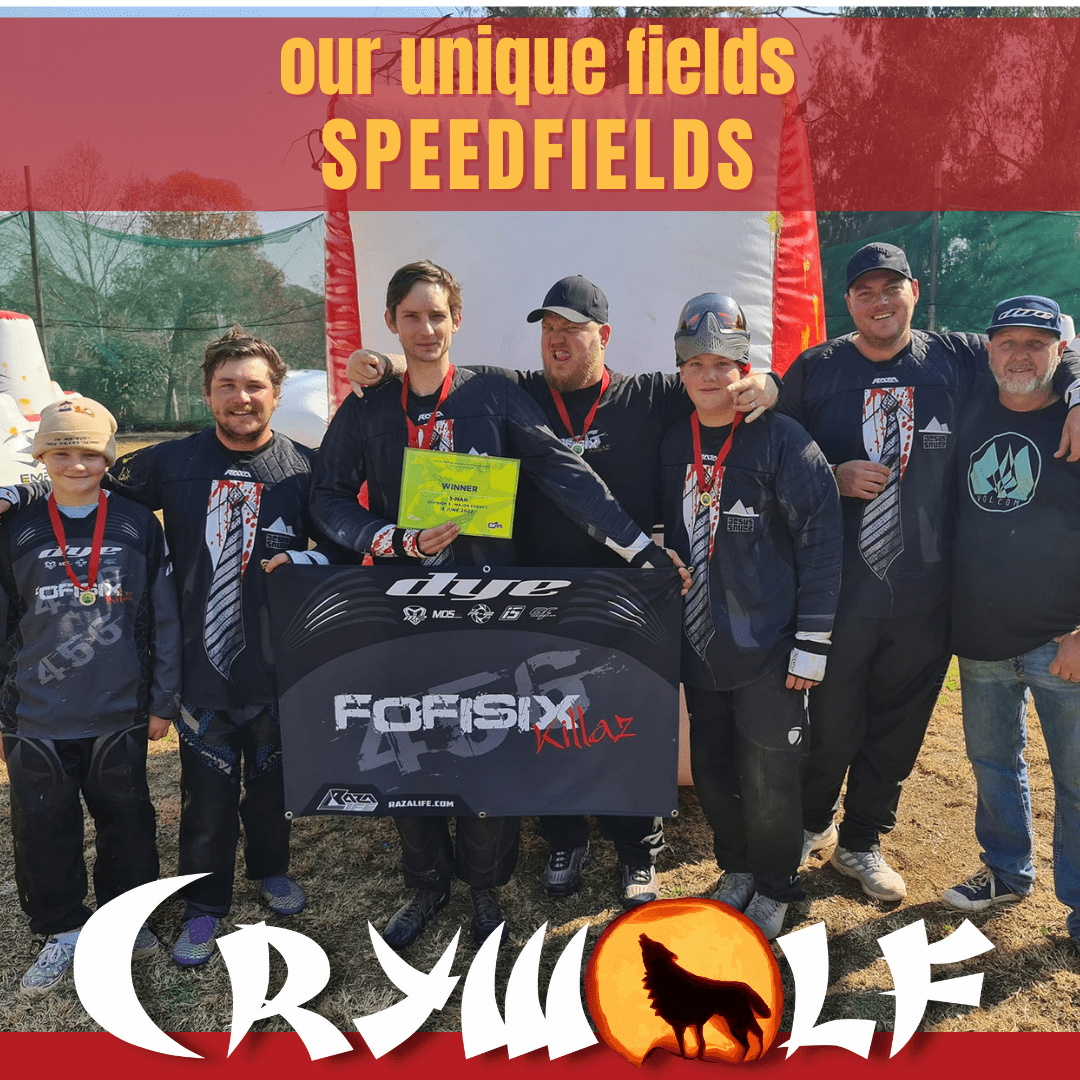 IT IS A GAME FOR EVERYONE
CryWolf guarantees the ultimate paintball experience in Gauteng. We are bold in saying that, because we've spent time to create the ultimate eXperience. We are located in Irene, Centurion.
Packages include everything needed: a gun, paintballs, a mask, a neck protector, an overall and a marshal which attends to the group. You may play on any of the available fields.
| Item | Paintballs incl | Price per person |
| --- | --- | --- |
| Standard 200 Package | 200 | R 200 |
| Standard 500 Package | 500 | R 350 |
When should I choose paintball?
It's our most popular activity, because many people know of paintball and want to experience it. It's by far the most thrilling activity we have and a lot of adrenaline will pump. This makes for next level fun and definitely an experience your guests will remember.
Paintball is not suitable for very young kids. Refer to the section about ages below. You may refer to the question about ages below. There are other, less intense activities on offer for them. Keep in mind, paintball is quite physically intensive and the players will be between tired and completely exhausted after this activity.
What does paintball cost?
It depends on what package you choose. Refer to the pricing page for up-to-date prices.
What's the minimum age for paintball?
We recommend girls to be at least 10 years old an boys to be at least 8 years old. It's just sort of from experience. There are no hard rules however, as children's personalities are diverse. You best know your child(ren).
We find that involvement from the parents, give the young players a lot of comfort and makes it more manageable.
What's a good group size?
It's sort of a matter of "the more the merrier". Our fields are quite large and can easily accommodate 20 players at a time. Generally a group size of 10 works really well.
What's the minimum group size?
We recommend at least 6 players, but our minimum is 4 players per group. From time-to-time, we can accommodate less players, but only if the other bookings for the day allow. We also have the option of just shooting one of our guns a bit as we have a dedicate corridor with some basic targets where we test our guns.
What's the maximum group size?
We recommend no more than 20 players, for normal groups (birthdays, bachelors and socials). That's roughly the number that can play at the same time on the same field.
We have about 100 paintball guns though and we can make use of different fields at the same time.
We've accommodated groups of 200 players. Of course, they cannot all play at the same time. So we break larger groups up into smaller teams and play different fields. Sometimes the groups are so large that some need to sit out for a round. But we rotate the teams and everyone will get a chance to experience the thrill of paintball.
Does paintball hurt?
It can.
But there are many factors which reduce this: our paintball markers (guns) are specifically set to limit the speed at which the paintballs travel; in addition to the obvious mask, we also provide overalls and neck protectors, which absorbs a lot of the impact; paintball players are generally quite far apart when shooting at each other, so by the time the paintball arrives, it's lost a lot of it's oomf; there is quite a lot of adrenaline pumping when playing, so that sort of makes the slight stings very secondary; your marshal will guide players on how to play safely (e.g. not shooting at each other when closer than 5m).
If you are still a little worried about the pain factor, wear jeans and a jacket for extra protection. Or even ask for a second overall.
The biggest risk is players removing their masks during a paintball game - this would have been clearly prohibited by the marshal (staff), but if the marshal cannot see the player removing the mask on other side of the field, that player is in definitely in danger. If you have inexperienced players (e.g. a group of kids) coming for a paintball game, you can definitely mention this specific rule to them beforehand - do not remove a mask during a paintball game for whatever reason.
How long does the game last?
The games last as long as there are paintballs. If you make use of our all inclusive packages, these may include either 200 or 500 paintballs, as part of the package. In our experience, the 200 ball package makes 45-60 mins of play, with the 500 ball packages makes for about 2 hours of play.
We do allow the purchase of additional paintballs, even if you've purchased the all inclusive packages. This is subject to staff capacity and availability of equipment. Please do note, although we don't have sessions that end at fixed times, we take a practical approach, we book groups based on the estimated numbers and a bit of a safety net to avoid over-booking. Therefore, if the fields are quiet, you can take your time. But on busy days, we cannot allow a group to start, stop and have a full meal and then continue. On these days, the paintball needs to be done first, with the necessary refreshment breaks, and finished. We really do try not to rush groups. But it's a practical matter which we hope customers can relate to.
If your groups wants to play paintball for an entire day, rather book on days other than Saturdays. There will be a lot more time to break, perhaps even have a meal halfway through.
Can I bring my own paintballs?
It depends. If you make use of our equipment, we do not allow any outside paintballs to be used with our guns. If your bring your own equipment, you can bring your own paintballs. In this case, you will be charged a corkage for paintballs brought in. Remember, we sell basic field paintballs as well, at reasonable prices. Even full, unopened boxes of 2000 paintballs, may be purchased from us.
So it should be rare cases where it makes sense to bring paintballs along, unless you play speedball and require higher end paintballs.
What's the difference between paintball and laser tag?
With paintball, you are actually shooting paintballs at your opponents. With laser tag, you shoot an infrared beam, which get's registered as a hit by your opponent's vest.
On what field will we play?
You will usually get a chance to play on all the different fields. Perhaps more than once, depending on how long the paintballs last.
I have my own gear, but something's not working. Can you help?
It depends. We do not have qualified technicians which fix paintball gear. We also send our equipment in for repairs and maintenance for more complex fixes. But if it's just a generic seal that needs replacement, we should be able to hook you up. But don't count on it, and you cannot keep us liable if the repair is not up to your standards. It's merely a helping hand, with some know-how. That's it.
This is laser tag in the outdoors with state-of-the-art equipment. From the design of the fields, to the gear, our aim is to stand out as the best in South Africa. Laser Tag is no longer just space age game played in indoor arenas. Experience a military simulated experience with realistic feeling guns. 
Laser clay pigeon shooting lets you experience the thrill of shooting clays in a super safe format, together with your friends or family. It's suitable for everyone and we have packages that will suit everyone's pocket.
Archery needs no introduction. And we've spared no expense - we have the original GenesisTM which is the official NASP bows and arrows that the juniors use in official competitions - check out the gear. We have 5 right bows and 1 left bow. There are also 2 mini bows, which are slightly smaller versions of the normal-sized bows. These are great for children. There are so many benefits to archery.